---
This week, we're honored to interview Cristine of Simply Nailogical. We love her unique, precise, playful, and experimental nail art style.  We are always pleasantly surprised by the places that she manages to find nail art inspiration: Mad Men, Mondrian paintings, cashmere scarves, and deodorant containers!
Tell us a little about yourself!
Hi there, I'm Cristine! I'm one of those nail artists whose day job has nothing to do with nails. Nail art is my biggest passion, hobby, and creative outlet. I grew up in and reside in Canada, am 25 years old, and work full-time as a crime statistics analyst for the Canadian government. I have a Master's degree in Sociology with a concentration in Criminology, and it's probably safe to call me a total geek. I have two cats that I treat like children, and a very understanding boyfriend who puts up with me blabbing about nail polish all night.
---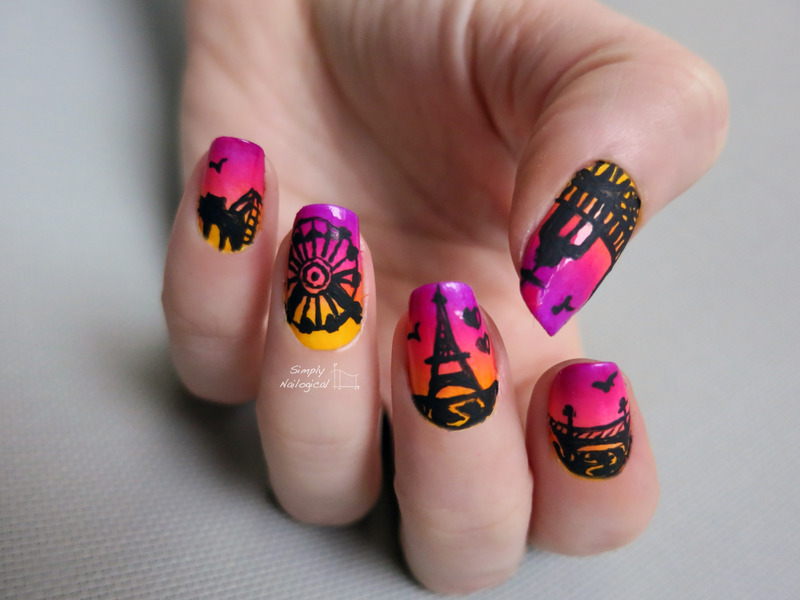 Coucher de Soleil – une soiree a Paris
---
How did you get into nail art?
I've been doing some form of nail art ever since I can remember, probably high school, which was 10 odd years ago. I used to paint each nail a different colour and then add a stripe of a different colour down each nail with those seemingly ancient Sally Hansen prism polishes. I began experimenting with different designs and eventually became known as the 'girl with the crazy nails'. I swear this was all before 'nail art' was a thing on the internet like it is today. I never realized that there was an entire online world of nail art until just a couple years ago.
---
---
How often do you do a new nail design and long does each design usually take?
It may appear that I do a new nail design on a daily basis based on the frequency in which I update my blog, but that's not the case at all! My posts are all delayed approximately three to four weeks, meaning that if I do a mani today, I shoot it and then won't post it for nearly a month. This allows me to plan ahead and create a post schedule.
During a typical week, I will paint my nails approximately six times, but will generally do several designs in one day on the weekends and only change my polish maybe once during the work week. This allows me to do some exceptionally crazy designs for my blog on weekends but then switch to a slightly more work-appropriate design for the office.
On average I spend about one to three hours per design. Some are quicker than others, especially if there's no drying time involved. I am a huge fan of using striping tape or nail vinyl's, so there's some waiting time in between layers.
Obviously I'm still being productive and doing things like surfing nail porn while I wait.
---
Pastel gradient dotticure nails
---
Where do you get your nail art inspiration from?
Inspiration is literally everywhere. I love to take inspiration from objects in my home, and that way I can snap a couple photos of the inspirational object behind the nail design. So far I've been inspired by artwork in my home, coffee mugs, socks, deodorant, wallpaper, and even my cats!
For example, take a look in your bathroom:
do you have a shower curtain with a sweet design?
What's unique about your towels?
Or the tiling on the floor or the wall?
Replicate it on your nails!
Outside of my home, I might be walking down the street and see an interesting sign or logo, or even see a pattern at the office (I won't lie though – not much inspiration in a sea of cubicles). I also draw a lot of inspiration from the many talented ladies who share their nail art with the online world.
---
Lady Speedstick inspired nail art
---
How many bottles of nail polish do you own?
Since you made me count, I currently own 335 bottles of nail polish, excluding base and top coats. To me this doesn't really seem like that much, since there are some nail artists out there who've reached over 1,000 bottles! That's basically my dream. I want to come home one day and have my entire bedroom filled with nail polish so high, like those colourful ball pits in kids' indoor playgrounds. Heaven.
---
---
Is there a color that you find yourself buying over and over again?
I have several white polishes, because as most nail artists can attest to, there's a challenge in finding just the right opaque white to use as a base for nail designs. But if I had to choose an actual favourite colour, it'd be blue. I have more blues than I can count and of many finishes: pastel, neon, sheer, crème, shimmery, metallic, iridescent, glitter… I love blue. Recently I've had a thing for neon yellow-leaning greens, but I feel like it could be a phase and that my love for blue polish will always remain.
---
---
Your photos always come out so beautifully. Do you have any tips for taking good nail art photos?
Thanks for saying that! I only launched my blog in February of 2014 (when I finally finished my MA thesis), but since then I've learned a lot from reading up on nail art blogging tips.
My first tip would be to do your homework! There are so many nail bloggers who've already put so much work into bringing together an index of tips to yield beautiful photos of your nail art creations.
I'm not going to reinvent the wheel here, but some tips worth highlighting include:
using a decent camera on a macro setting
ensuring adequate lighting
proper nail and hand care
never skipping post-polish clean-up
finding a comfortable and natural-looking hand pose that best showcases your nails
I've been using a digital point and shoot up until recently (Canon S110), with natural outdoor lighting, no camera flash, and my grey blinds in my living room as a backdrop. It's a makeshift studio, but you have to work with what you have! Recently I've been taking steps to improve my photos including getting a new DSL-R as my graduation present (best present ever!). It's a Nikon D5300 with a macro 40mm lens. New shots taken with this oh so fancy camera will be coming to a computer screen near you in June.
---
Negative space emerald runway nails
---
Tell us about this cat obsession of yours. Have you done any cat nails?
What cat obsession? I just have two fluffy children. No cat nails up on the blog yet, but stay tuned. I have always been a cat lover and I've come to notice that many other nail polish fanatics are also seriously in love with cats. The nerdy statistical analyst in me hopes to one day produce empirical evidence that proves that being a polish-aholic is positively correlated with having one or more cats.
I did a random poll on Instagram and asked my followers to indicate how many pets they had and what they are, and found that 65% of those who have a pet have a cat. Sure my sample size was really small (n = 37) and these results have no significance, but 60% of statistics are made up anyway, right? I'm also a firm believer that cat memes are the way of the future.
---
---
What are some of your top nail art techniques?
My absolute favourite nail art technique has to be the gradient. I've been doing them for ages and I just love the diversity of the technique (colours, patterns, directions) and how you can use it as a base for a more intricate design.
Random people who don't know anything about nail art are generally shocked at how beautiful gradients look, but for us nail artists we know that it's one of the easiest techniques to do! Easy execution and big, stunning payoff.
I'm also in love with using striping tape or nail vinyl's to create either simple or intricate striking designs. Abstract and geometric designs are probably my favourite genres of nail art, so gradients and striping tape really help me achieve the kinds of looks I love.
---
Interlocked reciprocal gradient
---
Who are some of your favorite nail artists?
How many paragraphs can I write here? There are so many talented nail artists out there, big bloggers and smaller, newer ones alike. Some of my top favourite heavy-hitters include:
There's a bunch of newer nail accounts that I've been following lately too, and I love to see new talent because, hey, I'm a nail blog newbie too! Too many to list, but I think I speak for most of us when I say the big accounts are great for learning techniques and for things like photography tips, but sometimes super innovative and creative ideas surprise you and come out of some of the smaller accounts. After all, all the big accounts were once small.
---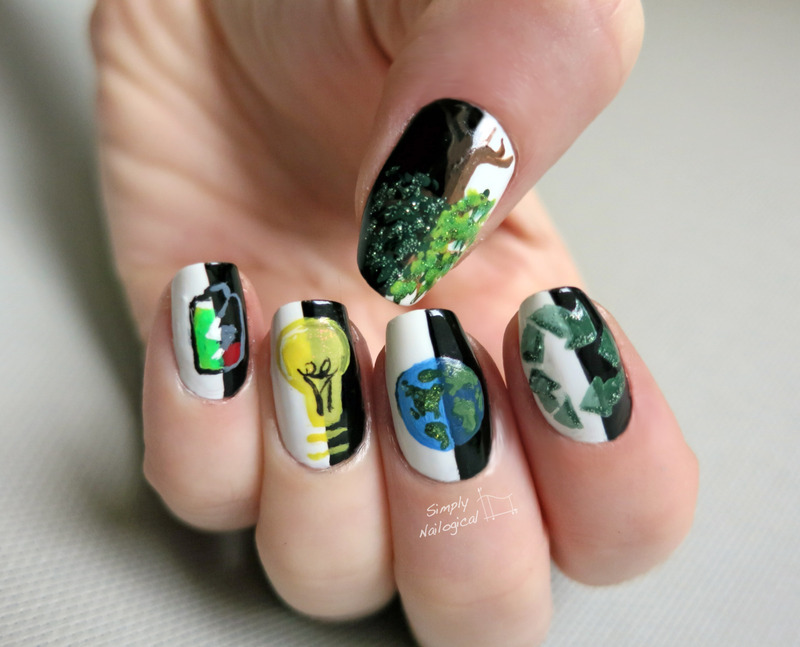 ---
What are some of your hobbies outside of nail art?
Shopping for nail polish, photographing my nails, and planning my next design on sticky-notes. What, you said outside of actually doing nail art, no?
Since I work full-time and spend a good chunk of my weekends doing multiple mani's, there isn't too much time for other hobbies. I'm pretty dedicated, eh? When I'm not glossy-eyed and high on nail polish fumes, I like to go to the movies with my boyfriend, decorate my home, or sip on a cocoa chai latte outside on my terrace while my kitties accompany me on their leashes. Dogs on a leash, cats on a leash… same difference.
---
---
Tell us something interesting or funny about yourself!
I'm super shy in person and I wouldn't call myself a 'people person' (which probably explains my inclination to begin an online blog), so it can be hard for people to believe that when I was a kid I was super outgoing and acted in various commercials and a movie.
Everyone else but me seems to think that my role in the Furby commercial or the Fib Finder commercial was downright hilarious, so that could be something both funny and interesting about me. I've met Mimi Rogers and Gena Rowlands on set of a film I did when I was 12, so that's pretty neat!
I quit acting when I was 13 because my mother feared I could be corrupted by the entertainment industry, become vain as a result of fame, get hooked on drugs, star in an x-rated film, etc, etc.
Thankfully today I'm afraid of cameras in my face, the only substance I'm addicted to is nail polish, and the only porn I do is nail porn.
---
---
Thank you Cristine! We had a great laugh interviewing you, and we're always excited to see your new designs on Nailpolis. Don't forget to visit Cristine's blog at Simply Nailogical and follow her on Nailpolis!