This week, we're proud to interview Paulina, the artist behind Paulina's Passions. Paulina was one of the winners of our 2014 Valentine's Day nail art contest.
Paulina's Nailpolis gallery is filled with polished and feminine nail art. She can also paint roses like no other–we've coined her the "queen of freehand roses"! There's also no doubt she's one of the most loved artists on Nailpolis.
In this interview, you'll get to know Paulina, learn some useful photography tips, and find out how she paints her roses! You'll even get to see some of her old photography, and drawings by her father.
---
Tell us a little about yourself!
My name is Paulina and I am a twenty-something girl from Poland. A few years ago, I moved to the Netherlands for my studies. I am currently doing my bachelor degree in international business and management.
Two months ago, my Dutch boyfriend and I, moved to Frankfurt, Germany and I am finishing my final year from here. I am already thinking what my next step going to be. Maybe Canada or U.S.? I am just going to have to make sure that my nail polish stash and my two kitties travel with me safely ;)
I enjoy getting to know other cultures and learning new things from people from around the world. I think it's a beautiful thing that we are all different. We should cherish that and learn from each other and accept who we are.
Besides studying, I am also working part-time at a pizzeria. In my free time, if I am not painting my nails, I enjoy a good book, crime series or going for road trips. I love visiting my family in Poland and I always look forward to some good Polish food.
---
---
How did you get into nail art?
I have always loved painting my nails. Even as a little girl, I would sneak my mom's polishes into my room and make my nails beautiful. The "real deal" started, when a few years ago, when I discovered nail art blogs and I found so much inspiration and ideas. I started recreating easy designs, like polka dots, and eventually (after my boyfriend's encouragements) created my own blog.
---
---
How often do you do a new nail design, and how long does each design usually take?
I paint my nails 3-4 times a week, sometimes more when I do swatches. How long… this depends on the difficulty. If a design requires a lot of attention to detail, it might take anywhere between 1-2h. When I don't have much time, I go for something very simple and quick, but honestly I enjoy making more complicated nail art and don't mind spending some time on it.
---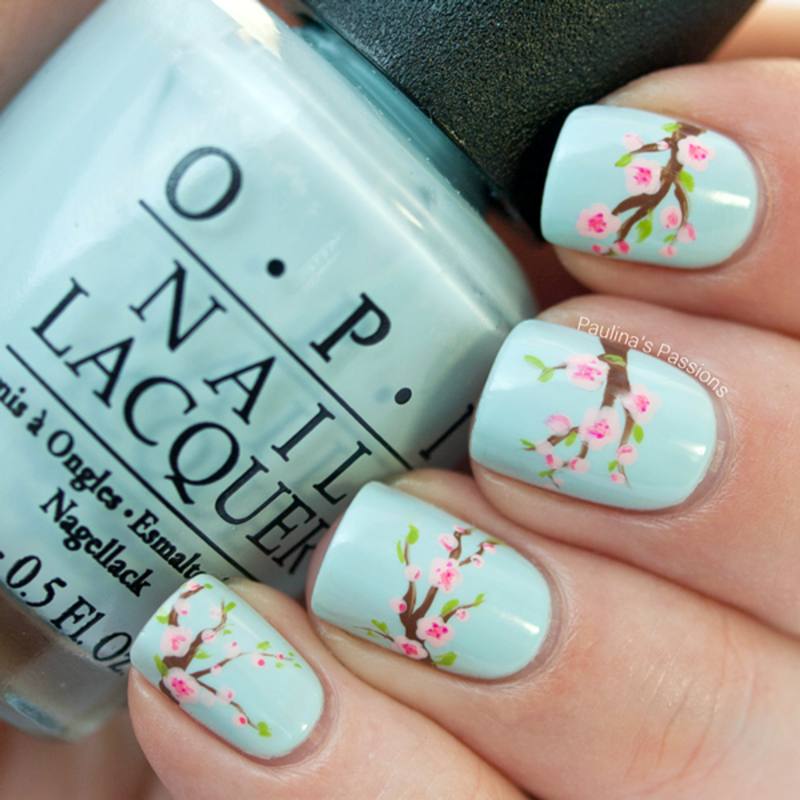 ---
How many bottles of nail polish do you own? Which ones are your absolute favorite?
I have never counted my bottles! But judging my the look of my collection, I think it's something around 500. Although, I really love sparkly glitter polishes, my favorite ones are with a creme finish and very bright colors. I have always loved colors and I always incorporate them into my nail art. It makes me happy!
---
---
We think you're the queen of freehand flowers–especially roses. Can you tell us your techniques for achieving such perfect flowers?
Thank you! I think it's important to use a few different shades of the same color, especially when making roses. It will give the flowers more depth and you can make them more detailed. Start with the lightest color and slowly build up the depth and shading of the petals. Make gentle strokes with the brush from the middle of the flower and once you go outwards make the petals a little bit bigger.
---
---
Can you share your top tips for taking good nail art photos? 
The best thing to improve your nail photos is to invest in good lighting. I am using full spectrum light bulb, which imitates natural sunlight and it's perfect for nail art pictures. Also, a good idea is to use a soft-box, which you can DIY inexpensively from a card board and a tissue paper.
What camera and lens do you use?
The camera I am currently using is Olympus E-510 with a 35mm macro lens. Oldie, but goodie.
---
---
What are some things you do to keep your nails healthy?
An important thing to keep your nails healthy is a well balance diet and drinking a lot of water. If you nourish your body from the inside, your nails, hair and skin will look beautiful.
Moisturizing your cuticles is a must! Since I started a proper nail care and kept my cuticles well maintained, I have noticed that my nails became much stronger and stopped breaking and splitting. I tried a lot of cuticle products, but the one that I always come back to is Lemony Flutter from Lush. It smells heavenly and moisturize the cuticles well. If you have weak and splitting nails, I recommend Duri Rejuvacote. These two products are my holy grails and I can't imagine my nail care without them.
---
---
Who are your favorite nail artists?
There are so many talented nail artists out there, that it's hard to mention just a few. The blogs that first got me into nail art are The Nailasaurus, Chalkboard Nails and Pshiit. Three very talented ladies, with their own, unique style and so much creativity! I am always excited to see their new designs in my feed. I follow lots of nail art blogs and interact with fellow nail bloggers. I love how welcoming and supporting the nail art community is.
---
---
What is your advice for beginners who are just getting into nail art?
Practice makes perfect! Start with simple designs and once you feel comfortable, try more complicated ones.
Don't get discouraged with the "nail fails" and just try again.
When I started my blog, I was posting lots of simple "dotticures", but I wanted to try something new, so I decided to join a nail art challenge with other bloggers. That really pushed my boundaries and I learned a lot of new techniques.
Stamping is still one technique that I am terrible at and I really admire all the ladies who create beautiful stamping designs.
---
---
You mentioned on your blog that you're also passionate about food, beauty, and photography! Do you have photography, beauty looks, or food you can share with us? :)
I actually haven't blogged about beauty or food in a long time. Nail art took over my blog entirely! Photography is my biggest passion after nails, especially pretty macro shots that capture lots of details that are not visible to our eye. I am sharing a few of my all time favorite photos that I took long time ago:
---
---
Tell us something funny or interesting about yourself!
I like to think that I inherited the artistic soul from my dad. He is an amazing artist and his drawings are always making my jaw drop. Drawing and painting are one of his "after work" hobbies and I really enjoy watching the process of creating this beautiful art. From just a few rough lines to beautiful detailed pictures:
Drawings by Paulina's father
Funny thing about me… Believe it or not, I am hopeless at painting my toe nails. They never look as good as my hands and I always have to go through a massive clean-up. Toe nail nail art? Forget about it!
---
Vintage flowers for Valentine's Day
---
A warm thank you to Paulina for a great interview! We'll keep practicing our roses until we can get them as perfect as hers! We hope you enjoyed this interview, and don't forget to visit Paulina's blog and follow her nail art on Nailpolis!